I had hoped to go to Great Adventure this weekend but with all the events going on at the park, I expected it to be very crowded so I decided to go to Dorney instead. My biggest concern this season was going to be how FastLane was implemented. Flash Pass rarely is a problem at Great Adventure since almost all rides have merge points at the station but after hearing at Carowinds how FastLane users could go up the exit and pick any seat they wanted including the front, I was worried the same thing might happen at Dorney. Thankfully that isn't the case.
The lot wasn't that crowded and the new preferred parking area isn't too large, it probably has around 100 spots.
The first ride of the day was Talon. 1 train was running and it was a 2 train wait. The newly painted track looks really bright and is great. It is a big difference between how it looked last year. As usual, Talon was awesome and is still my favorite ride in the park. The FastLane line goes to the staircase towards where row 8's waiting row is in the station and I noticed they were not letting much more than 1 train worth of riders in the station at a time possibly because of Fast Lane.
I skipped Wild Mouse since it looked to be at least 20 minutes. This is the only ride where FastLane goes up the exit.
I was going to go to Hydra which was also running 1 train but decided I would go to it later.
It is rare for Talon and Hydra to run 1 train and although I didn't have a problem with it today since crowds were low, I hope it wasn't done to increase FastLane sales and they will run 2 trains when it is a little more crowded. The entire day I didn't see a single person using FastLane.
Thundercreek Mountain was next, with no one in line. I got soaked as usual and didn't go back for a 2nd ride because of that. From the ride, I saw Hydra was broken down with the train full of riders on the brake run before the station.
I went to Thunderhawk which also has a separate FastLane line that goes up the stairs next to the regular line. 1 train was running with lots of empty rows to choose from. I took a non wheel seat and had a somewhat smooth ride (for Thunderhawk).
Steel Force was running 2 trains with no wait except for the front. For FastLane, you enter the regular line and after the stairs, the old entrance to the station is now for FastLane and everyone else walks around the switchbacks and up the ramp in front of the station. I got 2 rides and saw that Stinger had broken down but now reopened so I went there next.
The queue is not that big, there is a pathway to the switchbacks which there are 5 of and then a long ramp to the station. Like Talon, they weren't letting many riders in the station at once so even on a day like today when the park was empty, the line was almost halfway down the ramp. I can see the ride getting a full queue on a busy day.
For my first ride, I took row 1 since there was no one waiting for that row. I haven't ridden a coaster with these restraints since 2007 when Great Nor'Easter still had the old trains and I forgot how uncomfortable the restraints were compared to Intamin or B&M inverted coaster OSTR's. It felt confining around my shoulders.
The ride was smoother than I was expecting with a little bit of headbanging in the cobra roll. Like a standard boomerang, going backwards through the loop was very forceful. I walked around and this time went for the last row. I liked that better since you go up the lift forwards and I don't like the feeling of going up the lift backwards and falling into the restraint. I also did not realize at the top of the first lift, there was a slight pause before the train went back down the lift hill. I also didn't know the floor lowers on this coaster type like B&M inverts, although it was done differently with part of the floor moving forward out of the station and then lowered with the part out of the station on an angle.
For my 3rd ride, I tried a middle row this time facing other riders. I had enough after 3 rides and although I thought the ride was ok, it's my 2nd least favorite coaster at Dorney (Wild Mouse is my least favorite). It seemed to be popular though with many people getting right back in line for another ride while a few people said it was too much for them and didn't go for another ride. FastLane has a separate line that basically runs parallel to the main line and goes to the opposite end of the station.
I stopped at Possessed next waiting 1 cycle for a middle row. It is strange having to inverted shuttle coasters right next to each other and will probably take some getting used to seeing both rides running. FastLane's entrance is near the Monster Grille and merges right before the station.
Dominator was next, with no wait for either side. I had a solo ride on the Space Shot side. Here FastLane's entrance is right after you enter the line and it looked like it went to the Space Shot side. I am unsure if you can ride the TurboDrop side with FastLane or not since it might be like Chiller where FlashPass only worked on the Robin track.
Hydra had reopened so I went there next and the FastLane entrance is the staircase near the front row line. There was no wait and it still was rattling the entire ride. It has become a once a trip ride for me because of that. I really hope the rumor of Bizarro leaving Great Adventure doesn't happen since Bizarro is such a better ride than Hydra.
Wild Mouse now had a short wait so I stopped there. There are new rider rules of a 75" maximum height limit (this might have been a rule before but I don't think it was posted) and that you have to be 8 years old to ride. I was surprised to see a minimum age since if you meet the height requirements, shouldn't that be enough? Hangtime now also says it is not recommended for riders under the age of 10.
I decided to ride the Cedar Creek Cannonball which went past a closed Thunder Canyon and went back to Talon for 2 more rides to finish the day. White Water Landing was also running with basically no one riding.
Overall it was a good trip to the park with short lines and I look forward to going back especially when Wildwater Kingdom opens.
Preferred Parking Lot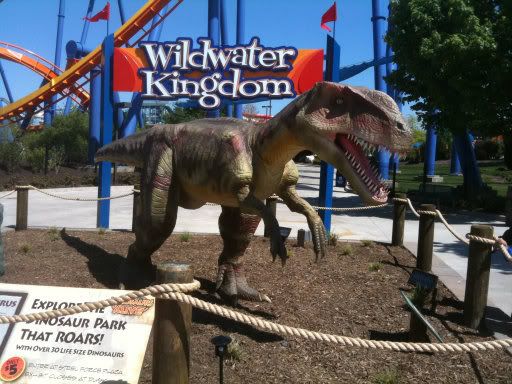 Dinosaur Alive "Sample", they had a few Dinosaurs all over the park
Talon
Steel Force
Dominator
Hydra in the inclined dive loop
An empty White Water Landing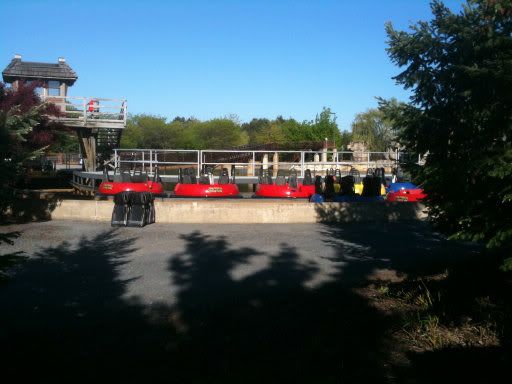 A closed Thunder Canyon
Stinger Entrance Sign
Stinger's train zooming through the station
In between the cobra roll and loop
Cobra Roll
Loop