I wanted to get to WWK 1 more time before it closes for the year next Monday and since I was near Allentown today, I decided to go to the park for a few hours. I got there around 1:15 and saw the first part of the main lot was almost full but there were only a few buses so the bus lot was almost completely empty.
Normally I go to the ride side first but saw some of the slide towers had short waits so went to WWK first. I started at Wildwater Rapids getting 6 slides in then going to Patriot's Plunge going on the red slide twice and the blue slide once. Lines were starting to get longer with Aqua Racer's line down the stairs and Jumpin Jack Splash looked to be around 15 minutes so I went to Island Water Works for around 15 minutes. The Speed Slides, 2nd lazy river and 2nd wavepool were all closed.
I decided to walk over the the ride side and ride Thunder Canyon and White Water Landing but Thunder Canyon was closed. I expected the 2nd lazy river and 2nd wavepool to be closed because of the lifeguards that already left to go back to college and expect some slides to be closed the final week the park is open for daily operations but wasn't expecting Thunder Canyon to be closed too.
Since I already walked over to the ride side, I held off on going to White Water Landing and went to Dominator. Both sides had no one in line so I went to the Turbo Drop side, walked past Thunderhawk seeing the line was out of the station and went to Steel Force instead. As expected, there was no wait with 2 trains running and I got the first row of the last car.
When riding Steel Force, I saw Thunderhawk's line was now a lot shorter so went there next. Even with a non wheel seat, it was rougher than earlier this year. Since I had to leave just past another hour I skipped Possessed, Hydra and Talon and went back to White Water Landing which like Dominator had no one in line. I went to the first row and 2 other people also went to the front. After the splashdown, they said to each other that they were surprised you got so soaked on the ride (they were wearing shorts and t-shirts and not bathing suits). The giant splashdown from each boat didn't give them the idea that you aren't going to stay dry?
I went back to WWK again going to Wildwater Rapids and Patriot's Plunge getting another 7 total slides. This time at Wildwater Rapids they were letting as many people onto the platform as possible which each slide having it's own line. That was good if you wanted to pick a slide with a shorter line but it was very congested and hard to tell which line was which with each slide having 6 - 7 people in line and because the orange and blue slides are facing 90 degrees away from the yellow and green slides.
As much as I didn't have to leave, I had to be back in the car at 4:45 so I didn't go back to the ride side.
It was another great season for WWK and it's too bad it will be closed for almost 9 months since I really like WWK more than the ride side at Dorney. With just the ride side being open at Dorney after Monday, I'll probably start going back to Great Adventure a lot more again too.
Wildwater Cove with Patriot's Plunge in the background. The double down on the red slide makes it my favorite slide at WWK.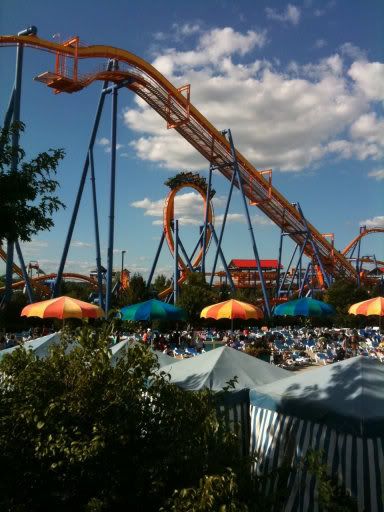 Talon